Our healthcare team offers a local service with global experience, and our extensive portfolio includes over 200 healthcare projects.
We deal with every aspect of healthcare design, including traditional procurement, managing contracts, ECI and PPP. We take a multidisciplinary approach, blending the experience and expertise of different members of our team – each of whom has their own specialist area – to provide an all-round design package to our customers.
Our people's strong communication skills and collaborative culture means our teams bring together their ideas and knowledge to provide a tailor-made service for our clients. Clients have easy access to us through our local offices, whilst those offices draw on the strength of our global expertise.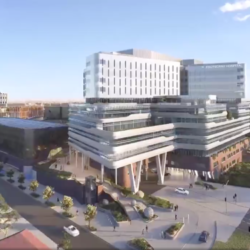 Featured Project
Victorian Comprehensive Cancer Centre.
Waterman was engaged as the Technical Advisors on behalf of the State Government of Victoria for the new 100,000 sqm comprehensive cancer centre in Parkville, Melbourne.
Designed by Design Inc and Silver Thomas Hanley, the Victorian Comprehensive Cancer Centre (VCCC) project delivered a $1 billion purpose-built cancer research, treatment, care and education hub in inner Melbourne.
The building provides a brand-new home for the Peter MacCallum Cancer Centre and new cancer research and clinical services for Melbourne Health (including the Royal Melbourne Hospital), new cancer research facilities for the University of Melbourne and new education facilities for all building partners.
You may also like…