To help our clients achieve excellence, we strive to deliver exemplary designs and create world-class facilities.
We know from experience how uplifting well designed and constructed leisure facilities can be for performers and users alike. We provide multidisciplinary engineering, technical, and building services support to help our clients realise their visions for state-of-the-art leisure facilities or inspirational sporting arenas.
Our multidisciplinary team has worked with wide variety of clients to deliver a range of outstanding sports and leisure projects, both here in Australia and around the world.
We are proud to have been involved in high profile projects such as the new training facilities for the Western Bulldogs and Essendon AFL Teams. No matter where the project is or the scale of the scheme we're involved in, our focus is always on delivering cost-effective, sustainable solutions.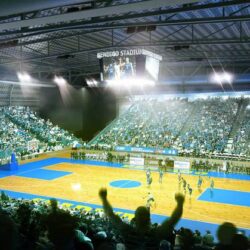 Featured Project
WaterMarc Leisure Centre, The iconic WaterMarc Leisure Centre in Greensborough offers state-of-the-art aquatic facilities, owned by the Banyule City Council.
This Peddle Thorp Architects-designed scheme consists of a gymnasium measuring over 900 sqm, multiple fitness program rooms, hydrotherapy pool, 50 m pool, 'learn to swim' pool, crèche, community meeting rooms, pool shop and children's fun zone. The centre also has two waterslides including the first Tantrum Alley in Australia.
Waterman provided full design, documentation and construction phase services for the scheme, spanning mechanical, electrical, fire, hydraulic and vertical transportation.
You may also like…